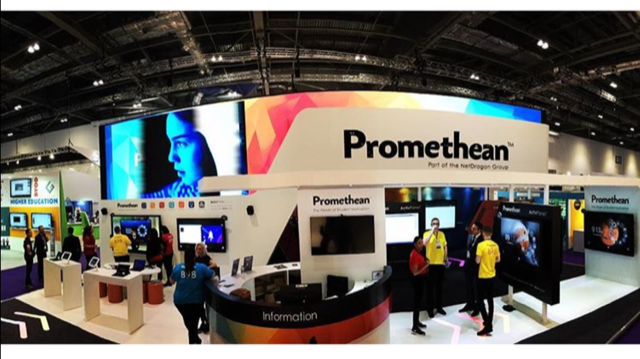 February 2018
By Team Ink
Client Sector: Technology
Services delivered: Print and exhibition support
Background:
Promethean is a global education company that improves the quality of education by developing, integrating and implementing innovative 21st century learning environments that motivate students to learn.
Ink was tasked with providing print management and exhibition support for one of their largest trade shows of the year; the Bett Show. Over 850 leading technology companies, 103 exciting new edtech startups and over 34,700 attendees attended the event. 
Deliverables:
Marketing collateral
Branded bags
Banners and stand boards
Ink delivered a number of items to support the trade show as part of their service.
A range of marketing collateral was printed for the show, including brochures with both a PUR and stitch finish. The Ink team also advised on paper stock and finish in order to gain brand stand out during the busy show.
The same thought was given to the large, gloss laminated rope handled bag the team sourced and produced. Our brief was to ensure the bags stood out from the crowd, while also remaining sturdy enough to carry a number of brochures.
Finally, the team worked with Promethean to create the banners and boards which were used on the stand. Ink's recommendation was to use 340gsm mesh board, which is much lighter than standard banner material. It also allows more air to circulate and light to pass through.
Client recommendation:
"Ink Print Services were Promethean's primary print partner for Bett 2018. Working under demanding timescales and quality requirements, the team ensured that our branded bags, banners and other collateral were delivered on time and to a fantastic specification. Even when issues outside of our control impacted on the project, they were resolved quickly and professionally. I would have absolutely no hesitation in recommending Ink Print Services – in fact if you don't offer them the chance to quote on your next project, then you are missing a trick!" Head of UK Content & Campaigns, Promethean.