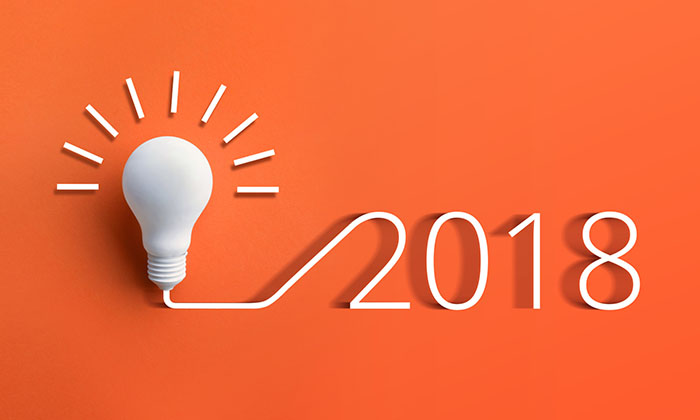 February 2018
By Team Ink
Here at Ink, we like to keep our finger on the pulse and stay ahead of the game when it comes to new and emerging print marketing trends.
The sector has seen huge change over the last few years, with printing technology playing its part in driving print capability forward. This year we're going to see a return to simplicity in print design, a more integrated print and digital marketing approach and the impact of the GDPR which comes into effect in May, which will tighten the data regulations around personalised print.
Simplicity when choosing print
We predict that 2018 will see a shift in print marketing, with a return to simplistic design. After being bombarded with over promoted messages and digital chaos, print will return to honesty and simplicity. This means clear imagery that conveys a brand's message, without the need for text-heavy (and boring) explanations. Text will be kept short and to the point, and white space will offer an opportunity to maximise a simple and clean design. Less really will be more in 2018.
Texture, foil and the odd bit of spot varnish
While simplicity will be one of the biggest trends, adding in subtle touches such as texture, foil or spot varnish to your print will create cut through.
Studies have shown that our touch memory provides us with the easiest recall, and using restrained finishes will become one of print marketing's most important selling points of 2018. By tapping into our touch memory, print can be used to create lasting brand awareness. By creating print that looks and feels distinctive, people are more likely to hold onto it for longer. Flock paper, embossing, debossing, raised ink, foil and spot varnish can all be used to create this finish. So, experiment with a more tactile approach to print this year if you want to achieve true standout.
Combining print and digital marketing
There's no denying that in recent years, digital marketing spend has been killing print investment. However, 2018 will see digital marketing and print marketing work side-by-side, with print advertising, packaging and direct mail integrated into digital marketing strategies.
A research project completed in June 2017, shows that 78% of UK consumers do not pay attention to online advertisements and 63% do their best to block or avoid them. This will provide an opportunity for print to reemerge, and by combining the two mediums you will be able to demonstrate that your company can talk, listen and communicate across all brand touchpoints.
Print and GDPR
Come May 2018, new data legislation will kick in that will change how companies need to manage their customer data. It will have huge implications for how companies undertake their marketing activity and how they can use personal data across all channels. For a while, it seemed that direct mail may have the same rules applied as for electronic communications – which is that you can't email marketing materials without express consent. However, latest guidance states that as long as your company has a 'legitimate interest', print is still good to go!
Print management companies will also have responsibility to ensure that they are managing and securing data when running personalised direct mail campaigns. Our team have spent hours reviewing the legislation, and we're pleased to say, Ink is all set for when the legislation kicks in. We have upgraded our file transfer capabilities to ensure higher security and are in the process of establishing best practice procedures for data management across the business. Please do not hesitate to get in touch if you would like to learn more!