Our business is driven by precision and attention to detail
Quality control and assurance are central to the way we work at Ink. From the systems we use to manage our own workflow, to the partners we choose to work with, our focus is on delivering a service we can be proud of each and every day.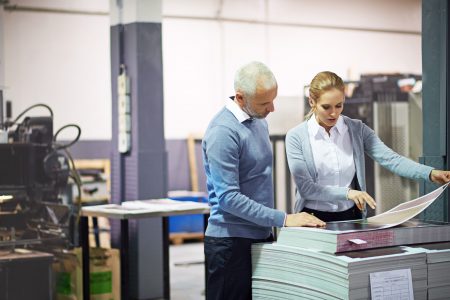 We understand the importance of consistently excellent service and reliability, and that's why every single project is managed with the utmost care – however big or small the job. We'll never compromise on the quality of print output we deliver, even if this means we lose the occasional job on price.
We've managed jobs for some of the country's largest brands, so we have developed a robust quality assurance process which involves:
Colour matching to pre-agreed specifications and Pantone.
Supply and tracking of e-proofs at every stage of the process to obtain approval to progress.
Team Ink passing on press for all significant jobs regardless of printing location.
Quarterly print supplier audits – included as part of our supplied SLA – to track supplier press quality and financial stability.
Supply of samples for your approval before print is released for delivery.
Paper recommendations where we believe your design output may be compromised.
Finishing checking and supply of samples for sign-off
Packaging for delivery - ensuring your precious print is protected in transit
Job feedback questionnaires to monitor where we can keep on improving our process and comms.
As part of our on-boarding process, we quickly get under the skin of our clients' unique requirements to give you absolute peace of mind that your print management is in safe hands. From paper specifications, to colour match, we're here to do the best job possible each time, every time. We value the trust that our lovely clients put in us, so this keeps us focused on quality every step of the way.
Each of our selected print partners work to industry-recognised print standards and specifications, for file preparation, proofing, press work, and output evaluation. This helps us to reduce proofing cycles and supports a faster approval processes. Working to industry recognised standards also us helps to manage expectations with our clients when they are buying print. Of all the standards within the printing industry, the most important are contained within the ISO 12647 family. Our printers work to ISO 12647 standard across all print outputs, from ISO 2846-1 which describes ink colour and transparency, to ISO 15930-X for data exchange in print production. So rest assured that your print is always in safe hands when using INK when it comes to quality matters.
Want a quick print quote?
Drop us a quick line if you would like to speak to a member of the Ink team about your general print support needs, or if you'd just like a competitive quote on your next print job to test us out. We're at your service and here to help!
If you'd like to arrange a meet up to talk about a print job you have coming up, for some advice on your spec, or for an expert eye to look at your print design output then we'd be happy to help. All no-obligation. No hard sell. No jargon and over-promising. Lots of friendly support, hand-holding and we always take care of the biscuits!